Booking.com7.3
Expedia.nl8.2
Google8.2
Within walking distance of the beach
Welcome to Fletcher Hotel-Restaurant Duinzicht. From the hotel in Ouddorp you can walk straight to the beach for a wonderful walk on the beautiful Dutch coast. Here it is wonderful to stay during a weekend away! After a walk, you can enjoy delicious dishes in the culinary à la carte restaurant of the 4-star hotel.
Hotel consists of 50 luxurious hotel rooms
Highly regarded Restaurant Duinzicht
Ten minutes walk from the beach
Multifunctional meeting room
Modern rooms and luxurious villas
Fletcher Hotel-Restaurant Duinzicht has lovely hotel rooms.. The hotel is the ideal destination at the sea and is surrounded by peace and quiet. After a stroll at the beach you can take place in the culinary à la carte Restaurant Duinzicht for some delicious dishes. In the bistro and the hotel bar you can also enjoy a small bite and a drink.
Fletcher Hotel-Restaurant Duinzicht is also a great location for business meetings. The multifunctional meeting rooms can be accomodated to any occasion.
Weekend at sea
With the beach at only 10 minutes distance to our hotel in Ouddorp you will be assured of a carefree and relaxing stay. The surroundings are perfect for hiking or cycling tours. 
Our team warmly welcomes you!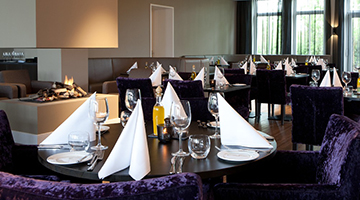 Photos and videos
Do you already want to get in the mood before you arrive at our hotel? Check out the photos and videos of our hotel here.




Photos and videos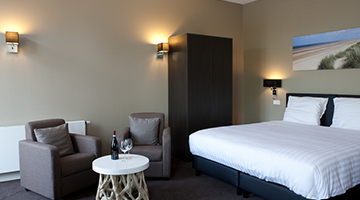 Luxury rooms
The luxurious hotel rooms are fully equipped. The rooms have various facilities and comfortable bathrooms.

Rooms
Discover the seaside town of Ouddorp
The surrounding area consists mainly of kilometres of beach. That makes it the ideal spot to go on delightful beach walks. In addition, you can of course get plenty of fresh air on the bike.


Surroundings